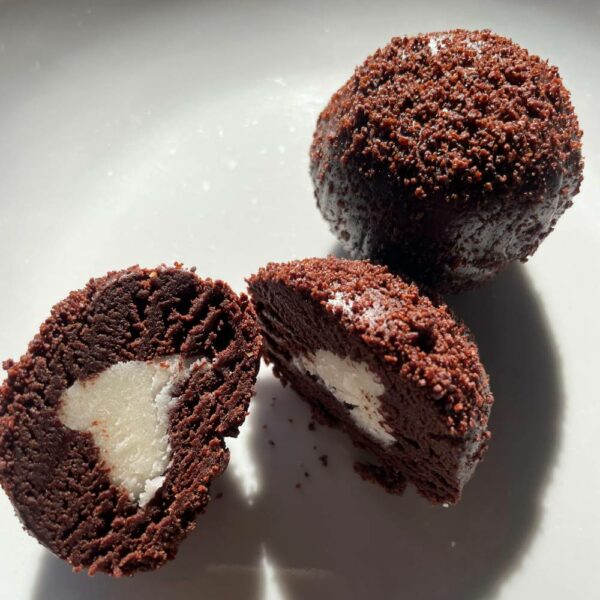 Cookies & Peppermint Cream Bliss Ball
Mint chocolate brownie on the outside and a velvety peppermint cream on the inside then rolled in Emmy's Organics brownie snaps for a little crunch.
Ingredients: Maple syrup, almond butter, protein powder, vanilla, coconut butter, monk fruit, peppermint, org. brown rice flour, org. tapioca starch, organic coconut sugar, organic chocolate chips, organic coconut sugar, organic chocolate liquor, organic cocoa butter, water, organic cocoa powder, organic coconut oil, baking soda, sea salt.
Contains: Coconut, Almond
Protein: 6g, Carbs: 11g, Fat: 9g, Sugar: 3g, Calories: 100 per bliss ball
Six Protein Balls for $15 or subscribe & save 10% and pay $13.50 every week until canceled. To subscribe, click here.
Now available for shipping within the contiguous US states! Flat rate $8 shipping for up to two 6-packs of bliss balls. Choose $8 flat rate shipping below and add your shipping address to the Additional Information box on the Checkout page. Orders shipped every Monday.*
San Diego locals: Add on to your meal program for no additional delivery charge.
West Michigan locals: If you'd prefer to pick up your bliss balls, we have pickup locations in Allendale and Hopkins.
*On Christmas break from 12/18-12/26. Orders placed during this time will be shipped / ready for pickup 1/1.
Orders will be closed the week of 12/25.
Troy and I wish everyone a Merry Christmas!