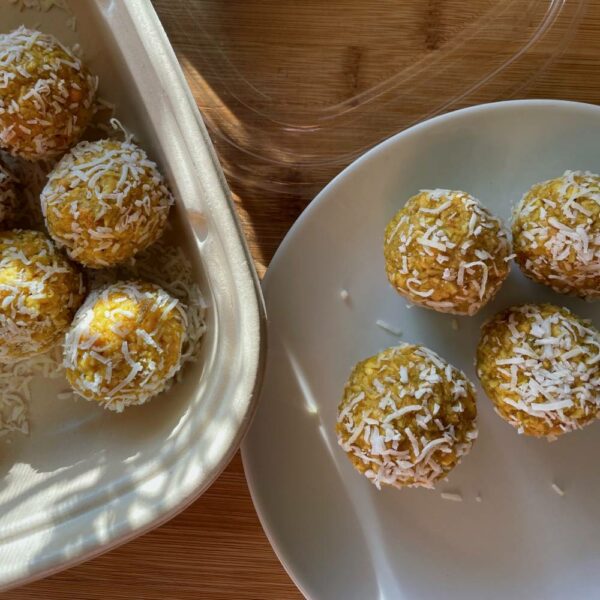 Subscription Coconut Turmeric Protein Balls
Subscription for twelve Coconut Turmeric Protein Balls per week. Our protein packed bliss balls are made with organic cashews, Orgain vanilla plant protein powder, coconut, turmeric, dried pineapple, vanilla, organic maple syrup and sea salt then rolled in coconut.
Delivery is included. Pricing is every week until canceled or paused.
How It Works
Choose a meal program that suits your lifestyle needs. Once you pick a meal program, we will email you the weekly menu to hand select your meals for the week. All orders are due Wednesday by noon for Monday delivery. All meals are dairy, gluten, soy free and refined sugar free.
Create an account with us! After your order is received with your preferred meal program, a receipt and client intake form will land in your inbox. This will tell me everything you would like us to know about you! Any likes, dislikes, allergies or preferences!
ENJOY! We deliver your fresh meals every Monday to your home, gym or office between 8 am-5 pm. All meals are mindfully made gluten, dairy, soy and refined sugar free. We source our produce locally and shop organic as much as possible. All our meats are grass-fed, wild caught and pasture raised.
Menu for the Week of December 18, 2023
Creamy Tuscan Chicken
Creamy coconut milk based sauce with sun-dried tomatoes, broccoli and topped with parsley.
Contains: Nuts
Creamy Cajun Chicken Pasta
Chicken, brown rice pasta, peas and broccoli smothered in a creamy cajun sauce.
Contains: Cashew
Firecracker Beef Bowl
Ground beef with our firecracker sauce served with green beans and white rice.
Contains: Sesame, Coconut
Chicken Bacon Ranch Bowl
Grilled chicken breast with our ranch dry rub, diced sweet potato, bacon, yellow squash, zucchini and our house paleo ranch.
Contains: Egg
Everything Bagel Chicken
Chicken breast coated in everything but the bagel seasoning. Served with dairy free garlic aioli, brussels sprouts and sweet potato fries.
Contains: Nuts, Sesame, Egg (Aioli)
Cranberry Chutney Salmon
Roasted wild isles salmon served with gluten free pasta, asparagus and our house cranberry chutney.
The Harvest Buddha Bowl
A mix of everything this season has to offer! Chicken or tofu, black forbidden rice, Organic spring mix, butternut squash, apple, pomegranate, fresh herbs, pumpkin seeds and served with an apple cider vinaigrette.
Egg Bites with Hash Browns
Eggs, bacon, cherry tomato and spinach. Served with hash brown potatoes, bacon and hot sauce.
Contains: Eggs
Banana Protein Pancakes
Oat flour, banana puree, egg, cinnamon, vanilla, plant based protein powder, baking soda. Served with maple syrup and berries.
Contains: Egg, Almond